By Paul Gillin
The near-total collapse of the American newspaper industry as we know it is inevitable. Anything newspapers could have done to stop it should have been done years ago. (Slate recently wrote that newspapers saw this coming in the mid-'70s.) All the social, demographic and economic trends are lined up against the industry. Over the next decade, there will be agonizing rounds of layoffs, consolidation and bankruptcies. It will be painful to watch, but it will be a necessary process for the industry to reinvent itself.
In this essay, Iíll outline the reasons I believe this and propose a new and very different model of publishing and journalism that will take hold as this cycle plays out. This will be a very exciting evolution, but it will be very painful, too.
A broken business model
First, some background and assumptions. The business model of metropolitan daily newspapers was developed over 150 years ago to support a delivery method that is becoming irrelevant. Huge staffs of people were needed to create content, turn it into type, print it on paper and distribute it on a timely basis. It was very expensive, but it was necessary because there was no alternative way to deliver information on a daily basis.
Large editorial staffs were needed to create proprietary content. A few alternate sources of content were available, such as news wires, but there was almost nothing at the local level. In any case, running wire copy didnít differentiate a newspaper from its competition, so staffs of salaried reporters were needed to turn up original news. At some newspapers, these staffs could run to several hundred people.
Newspapers had to maintain large circulation operations and massive subscriber lists in order to justify their ad rates. Circulation is expensive. While renewal rates for daily papers have always been high, itís costly to acquire new subscribers through advertising and direct mail. For most papers, the cost of circulation didnít come close to matching the small revenue it generated. Circulation revenue at newspapers has also been falling in recent years due to price cuts and competition, further squeezing margins.
Capital costs inherent in buildings, presses, paper, ink and people to run all those machines were astronomical. Labor unions added to those costs. In some cases, the unions have succeeded in preserving jobs that were automated out of existence years ago. People go to work and literally have nothing to do.
Add it all up and a metropolitan daily newspaper must employ several hundred people to produce the product. Newspaper advertising is very expensive because of the large fixed costs. The Chicago Tribune, for example, charges $755 per column inch in the daily paper ($1,135 on Sunday). That business works as long as advertisers are willing to pay for it and for many years they have. Thatís because newspapers were one of the most effective means for businesses to reach consumers in certain geographies.
The upside, though, is that newspaper model has traditionally been profitable and predictable. Once a newspaper achieved dominance in its market, it was practically unassailable. As consolidation reduced the total number of daily newspapers (there are about 1,500 in the U.S. today), competitive pressure eased and the winning papers were able to drive their ad rates higher. Until the mid-1990s, this was a pretty nice state of affairs. Even the Internet didnít put much pressure on newspapers, at least during its first decade.
That is all about to come to an end. The business model of metropolitan daily newspapers is poised for a collapse that will be stunning in its speed and scope. The cause is Web 2.0 and the vastly superior economics of that emerging business.
A new model
A recent story in Business 2.0 magazine revealed the income of some popular bloggers. Read this article if you want to understand the emerging economics of blogosphere. This new medium is far more cost-efficient than the ones it will replace.
ďBlogs today benefit from what might be termed uneconomies of scale,Ē the Business 2.0 article says. ďThey are so cheap to create and operate that a lone blogger or a small team can, with the ever-expanding reach of the Internet, amass vast audiences and generate levels of profit on a per-employee basis that traditional media companies can only fantasize about.Ē
Take the Fark.com example. The site generates 40 million page views a month with a staff of one full-time person and two contractors. Its only real operating costs are bandwidth charges. It produces almost no original content and has no capital costs. Members contribute their own content, so no editors are needed. The site almost runs itself. Yet this could approach $10 million in revenue before long.
Another example is Craigslist.org. Itís is the fifth most popular site on the Internet, with global reach and an estimated four billion page views a month. It is absolutely killing the newspaper classified ad business. One study report estimated that Craigslist costs San Francisco newspapers $50 million in revenue each year. The entire staff is 23 people, all part-time. Google Blogoscoped, which is the best independent source of information about Google, is run by one person in his spare time. Itís averaging four million page views a month. Gizmodo grew to become one of the top five blogs on the Internet with only a single contributor. Digg.com, which is barely two years old, is already among the top 25 sites on the Web. Its traffic outstrips all the largest media sites. It has a staff of 15.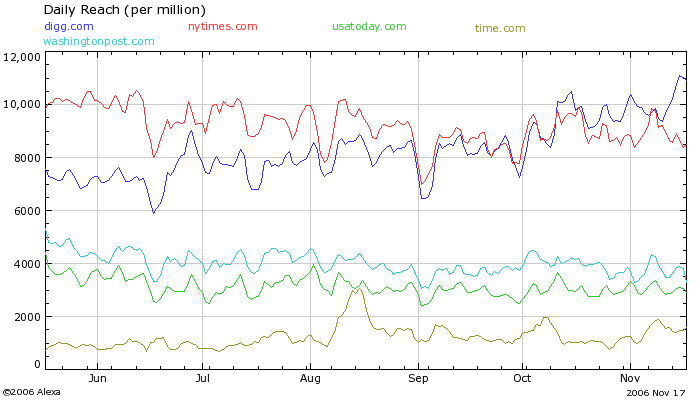 Digg.com, with less than 20 employees, has more Web traffic than

The New York Times

, according to Alexa.com. Other popular mainstream publications are even farther behind.
---
Download this article (PDF)